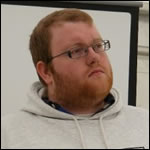 Norman Ralph
Position: President
Beliefs: Rationalist
Degree: Joint Honours
Norman, or Norm as he better known, is currently an undergraduate reading a joint honours degree in Materials, Computing and Management at the University of Leeds. Norman has been an Atheist for about seven years and would describe himself primarily as a rationalist, bordering on empiricist. A keen debater, Norman is always prepared to speak his mind on all things.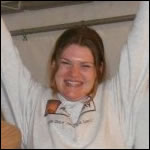 Nicola Jackson
Position: Secretary
Beliefs: Atheist Jew
Degree: Biological Sciences
Looking for a quieter life Nicola left the bright lights of Barnsley to read for a degree in biological sciences at Leeds. She is very active on campus being involved in a number of other societies and sports teams including archery and the navy. Nicola works as secretary for A-Soc dealing with membership records, administration, paperwork and general secretary type issues.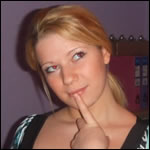 Charlie Fitton
Position: Treasurer
Beliefs: Atheist
Degree: Computing for Business
Continuing our history of having well known popular socialites hold the office of treasurer, Charlie is only the second person to hold the position since the society's formation. She is the point of contact for all things finance and sponsorship related.
Our Secretaries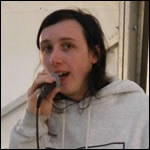 Chris Worfolk
Position: Events Secretary
Beliefs: New Atheist
Degree: Computing
Chris founded the society and served as president for the first two years. Throughout his time he lead the society through three awareness weeks, almost one hundred weekly talks and debates and a variety of other events. He now looks after the big events such as Rationalist Week and Darwin Day.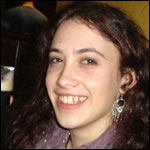 Rosie Price
Position: Recruitment Secretary
Beliefs: Atheist
Degree: Neuroscience
Having seen Rationalist Week 2008, Rosie knew A-Soc was a society she wanted to be involved with. In her own words "the thing that struck me about A-soc is how accepting it is, whatever your beliefs or background, you are welcome." She is also a big fan of real ale and gothic culture.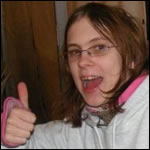 Liz Hodson
Position: Social Secretary
Beliefs: Atheist
Degree: Life
Despite being only 4′ 8 tall Liz is packed with spunk and enthusiasm for the society and if there is one thing Liz loves to do it's party, always leading from the front when it comes to drinking.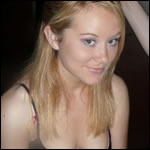 Kate Richardson
Position: Communications Secretary
Beliefs: Atheist
Degree: Film & Politics
Having taken some time out of her modeling career to do a degree Kate is in charge of standing still, looking pretty. She also handles the media and publicity side of the society.
Our Coordinators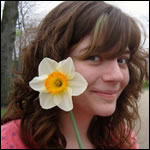 Sophie Stringfellow
Position: Meetings Coordinator
Beliefs: Humanist
Degree: English
Sophie has been an 'out' atheist for the past year since meeting the committee and realising that there could not possibly be a god. As meetings co-ordinator for the society, she is in charge of stamping membership cards and leading people to the pub.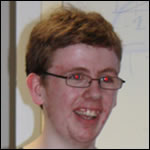 Tom Leadbeather
Position: AHS Representative
Beliefs: Atheist
Degree: Politics & Parliamentary Studies
Being inspired by the magnificent A-Soc freshers' stall Tom, joined the society. As the society's first AHS representative Tom is happy to help out with any national issues. Other interests include obsessive politics watching and gaming.