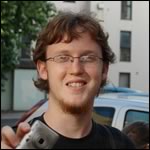 John Salter
Position: President
Beliefs: Atheist
Degree: Philosophy & Artificial Intelligence
Heroic. Valiant. Brave. These are just some of John's characteristics in Azeroth and many of them carry over into the real world too. John was previously responsible for making sure everything runs smoothly for the various courses we run including One Life and Perspective and has now taken on the role of president.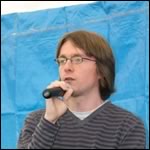 James Murray
Position: Secretary
Beliefs: Humanist
Degree: Chemistry
Having completed his undergraduate degree in Chemistry, James has now moved on to pursue a PhD, mainly so he can introduce himself as Dr. Murray to the ladies. James, along with Kyna from Edinburgh Humanists, is also one of only two prog rock fans under forty years of age, currently residing in the UK.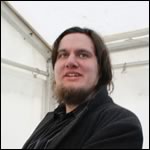 Michael Bramham
Position: Treasurer
Beliefs: Atheist
Degree: International Relations
Having traveled from the wilds of Cumbria to be at Leeds (and indeed following a long line of Cumbrian treasurers at LAS), Michael is responsible for safe guarding the financial future of the society, keeping on top of the group's spending and finding new and exciting ways of convincing people and organisations to give us money so we can continue to run.
Our Officers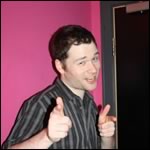 George Shore
Position: Publicity Officer
Beliefs: Secularist
Degree: Computer Science
After giving up his career as a prominent adult film star, George came to Leeds to read for a degree in computer science. He is responsible for maintaining all the publicity for the society, plugging our events everywhere, poster design and all the other clever stuff like that.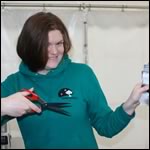 Nicola Jackson
Position: AHS Representative
Beliefs: Atheist Jew
Degree: Biological Sciences
Looking for a quieter life Nicola left the bright lights of Barnsley to read for a degree in biological sciences at Leeds. Having served as secretary and interfaith coordinator, Nicola how represents us on a national level and also serves as secretary of the National Federation of Atheist, Humanist & Secular Student Societies.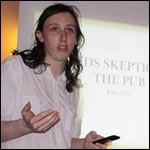 Chris Worfolk
Position: Vice President
Beliefs: New Atheist
Degree: Computing
Chris founded the society and served as president for the first two years. Throughout his time he lead the society through four awareness weeks, over one hundred weekly talks and debates and a variety of other events. He now handles the day to day running and administration of the society.
Our Coordinators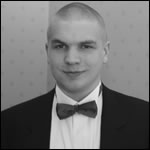 Jonni Lomax
Position: Meetings Coordinator
Beliefs: Atheist
Degree: Physics
It's fair to say that reading physics is a pretty hard degree. Yet somehow Jonni manages to find time to do his degree work as well as working and sitting on the A-Soc committee! It's Jonni's job to ensure that everything runs smoothly on a Tuesday night for our regular meetings and socials.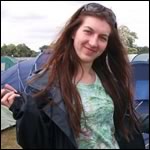 Nicola "Skittles" Walker
Position: Interfaith Coordinator
Beliefs: Humanist
Degree: Theology
Having been a member of the society since she started university two years ago, Skittles stepped up to take on the interfaith role this year coordinating our courses, One Life and Perspective, and keeping in regular contact with the faith societies on campus.